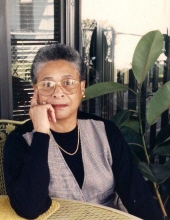 Obituary for Arlene Ogletree
Arlene Ogletree, affectionately know as "Big Lenie", was born December 5, 1930, in Xenia, Ohio to James Ervin and Martha (Shanks) McCormick. Arlene had five brothers and two sisters: James Jr. (Jake), Horace Robert (Bobby), Edward (Buddy) and Wallace Leon (Fats), Dorothy "Dot" (Starling) Higginbotham, LaFrances "Frances" (Starling) Ferguson, Wintferd "Wint" Starling. Arlene peacefully transitioned into her Eternal Rest at 11:30 A.M., on Friday, November 3, 2017.

Arlene was married to William Ogletree on March 1, 1951. Together they raised three children of whom they were extremely proud, William Mario (Buzzy), Mark Owen (Markie) and Arlene McCormick (Little Lena). Arlene and William were federal employees at Wright-Patterson Air Force Base, Ohio. Their careers involved relocation of the family, the last move being San Antonio, Texas in 1968. Arlene retired from Kelly Air Force Base in 1985, after 30 years of service.

Arlene was very active after retirement. For many years she volunteered and later became the Coordinator of Volunteers with the Red Cross at Lackland Air Force Base. After that she volunteered with San Antonio Food Bank for several years. Arlene also worked as a substitute teacher in the Edgewood School District for ten years teaching elementary to high school students. She was so well thought of, she was often requested by name by the schools at which she taught. Arlene was also involved with women's organizations taking on various events in the community. She was a founding member of the Forget Me Not Sisters a group that volunteer at the Fisher House, made donations to public schools helping children in need, and holds an annual Pensioners Luncheon. Arlene was an avid traveler. She helped to reunite a travel group of ladies from her hometown, Springfield, Ohio and also traveled with the Forget Me Not Sisters. Her travels covered much of the United States including Alaska and Hawaii, the Caribbean Islands, Canada, and Israel, the Holy Land, which was a long time dream to accomplish.

Arlene was a devout Christian. As a believer, what she did in life was due to living out the tenets of her faith. Arlene joined Macedonia Baptist Church where she was a long standing member for over 30 years and actively supported ministries (Women's Bible Study and Women's Choir) where she made lasting friendships. Later in her Christian life she became a member of Westover Hills Assembly of God where she attended service with her daughter, Lena. Family worshipping together was important to her which was the answer she gave when she was asked about her move to another church. After joining Westover Hills, Arlene regularly served as a greeter.

Arlene was preceded in transition by her grandparents, parents, all but one sibling, her husband (William) and son (Buzzy). Arlene leaves many family and friends who will cherish her memory and will forever remember her warm smile and loving heart! Along with her son, Mark (Natalie) and her daughter, Lena; Arlene is survived by her sister Dorothy Higginbotham, Uncle Pat McCormick, sister-in-laws, Agnes Starling and Annie Leontyne (Tino) Embry; daughter-in-law, Alicia (William) Dorsey and daughter-in-law Holly (Mark) Graves; nieces and nephews Cheryle (Joe) Dunford, Patsy (Sam) eason, Brenda (Mike) McCoy, Valerie (Norman) Jackson, Helena (Richard) Moore, Gregory (Demetria) McCormick, Lester (Paulette) Embry Jr., Edward (Latisha) Ogletree Jr., Dawn (Michael) Gaines, Bobby (William) Gault, Delmar Jones, Blontas (Starling) Mitchell, Marsia (Starling) Pearson, Winifred (Ivan) Hardy, and Ledia (Claude) Castleberry; grandchildren, Tamara Hampton, Kira (Sherman) Dupree, Mario (Takeshia Cofield) Roberson, Avery (Amberly Cooper) Ogletree, and Aaron Ogletree; great grandchilden, Athena, Amore, Tia, Darius, Jamal, Peyton, Ayrah, Ava and Tamira; and a host of great nieces, nephews, cousins and lifelong friends.

Arlene will be long remembered for her kindness, tell-it-like-it-is personality and how she made others in the presence feel cared for, loved and special.
Previous Events
Memorial Service
Westover Hills Assembly of God
9340 Westover Hills Blvd
San Antonio, Texas 78251