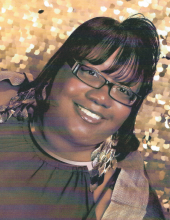 Obituary for Errika Cherron Felder
Errika Cherron Felder was born on July 31, 1977 in Baltimore, Maryland to Rev. Ernest, Jr. & Victoria Felder. She departed this life on Thursday, April 13, 2017 at Christus Santa Rosa Hospital.

Errika graduated from Edgren High School, Misawa AB Japan in June 1996 and continued her education, graduating from the University of Maryland in 2000 in Business Management and received a Bachelor's Degree from Wayland Baptist University in 2001 graduating with Honors. Also, was part of the Alumni for Wayland.

She worked in various positions at Wells Fargo (previously Wachovia) since 2002 in San Antonio TX for over 20 years. Errika loved family and friends and enjoyed traveling around the world. As she traveled with her family while her Father served in the United States Air Force. Places that have many great family memories, Keesler AFB, Utah, McGuire AFB, New Jersey, and Misawa AB, to Kelly AFB San Antonio.

Errika united with Macedonia with her family in Oct. 2002. She was a faithful servant of God and had a personal relationship with her Savior Jesus Christ and was involved in many church ministries. She faithfully attended Fulfillment Hour (Sunday School) and worship. She enjoyed teaching youth girls and served as secretary for the women's ministry. Errika loved her church and her church family. She will be deeply missed by her family, friends and all who knew her.

She is survived by her parents Rev. Ernest E. Felder, Jr. and Sis. Victoria W. Felder, Sister Tanya Charnet (San Antonio, TX), Brother Erik Ryan (Tiffany), from Guam; Her God mother Christine McCardell and her two nephews and God Sons, Malaki and Trenton, the love of her life (Guam). And a host of nieces and nephews. Aunts: Paula,Geneva, Paulette, Charisse, and Brenda, Carolyn, Barbara, Gail, Bernice, Angela, Stephanie, Joanne, Celia and Doris. Uncles: George, Leon, Willie, John, Darryl, Kurk, Jimmie Jr., Walter, Gebel and Jose. God sister Charnet May and a host of cousins. Her Macedonia Church Family, The Sibley-Miles beauty shop and cruise gang, her co-workers and friends at Wells Fargo. Soul Sisters: Taverns, Citra, Terry and Mary "C". Her Baby-Pet - "Khandi Gurl" and a host of friends.

She is preceded in death by her Maternal Grandmother Shirley Woofolk, Paternal grandfather Harvey Watson (Marie), paternal maternal Grandmother Annabell Williams, fraternal Aunt Bernice, Grandparents Herbert and Celeste Shannon, Aunt Gail, Uncle Jernay and James Jr. Errika's God Father, David Berry.
Previous Events
Visitation
Macedonia Missionary Baptist Church
963 SW 40th Street
San Antonio, TX 78237
Funeral Macedonia Missionary Baptist Church
Service
Macedonia Missionary Baptist Church
963 SW 40th Street
San Antonio, TX 78237
Funeral Macedonia Missionary Baptist Church
Cemetery Details
Location
Meadowlawn Memorial Park Cemetery
5611 East Houston Street
San Antonio, TX 78219