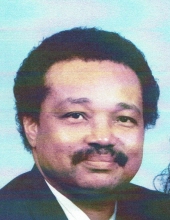 Obituary for Walter Lee Gramby
Walter Lee Gramby entered into eternal rest on Saturday, September 30, 2017. He was born in Edenton, North Carolina on Monday, April 5,1948. He was raised by his grandparents the late Eva and Johnny Ryan who preceded him in Glory; along with his son William Bellinger IV. He was a devoted husband and father. Walter was married for 40 years to Sylvia Gramby, together they fostered over 100 children for 25 years and they adopted six: Eric, Zachary, Kevin, Erika, Barbara and Michael Gramby.

Walter attended school in the North Carolina Edenton-Cowen School System and graduated from D.F. Walker High School in 1966. Upon completion of high school, he enlisted into the United States Air Force and served his country honorably for four years. He went on to further his education at St. Philip's College, San Antonio, Texas, and graduated with a Bachelor of Science Degree in Occupational Education from Southwest Texas State University, San Marcos, Texas, in 1979. Walter was employed by AMD (Advanced Micro Devices) and Sony where he served as Lead Engineer and retired after 25 years. He re-entered the workforce after one year as was currently employed with Maxim Integrated, currently TowerJazz as a Engineer Specialist until his death.

Walter was a "computer geek". We could always find him at his computer working on stocks and investments, ordering the latest program or technology online, doing yard work or rebuilding his motorcycle. He was a man of few words but when he did speak, his words or advice was meaningful. Walter was the epitome of a man that believed in hard work and providing for his family.

Walter leaves to cherish his memory, his wife: Sylvia Gramby; his children: Eric Gramby (Jontel), Zachary Gramby, Kevin Gramby, Erika Gramby, Barbara Gramby and Michael Gramby; his two sisters-in-laws: Alvis "Bunny" Whitlow and Brenda Henderson; his brother-in-law, Burton Thomas (Juanita) and godson, Donte Mathis (Karen). Additionally, he leaves a host of nieces, nephews, cousins and other relatives and friends.
Previous Events
Visitation
Second Baptist Church
3310 East Commerce Street
San Antonio, TX 78220-1220
Life Celebration Service
Second Baptist Church
3310 East Commerce Street
San Antonio, TX 78220-1220
Interment
Ft. Sam Houston National Cemetery
1520 Harry Wurzbach Rd.
San Antonio, TX 78209