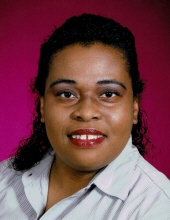 Obituary for Karen Milam Anderson
A Message from Heaven: "The Road That Lead to Home"...

It all started on Sunday, October 6, 1968 in Temple Texas. However, I'm still excited about September 10, 2017. During that late Sunday evening, the Lord came to me and said, "my child, Karen Milam Anderson it is time for you to come Safely Home.

I told Him, I knew He was coming, but this was a journey I had to make alone. Agreeing with my request, the Lord went to work...after putting a peaceful rest upon my home. The Lord, came back to my bedside and said, "Take My Hand" and when I took His hand the feeling I received was so strong that it took my breathe away. My last sigh was not the sigh of death, but it was one sweet relief because my grounded soul had been freed.

My spirit trembled with elation because now was the time to start the Victory Celebration. A celebration of my true life, the one that my Lord had long ago promised me...a street paved with gold in a land where you never grow old. I never could truly conceived the meaning "when this is over, I'll Fly Away" until I received my own personal set of wings. I shouted Glory Hallelujah!
Previous Events
Memorial Service
Bethel AME Church
225 North Swiss Street
San Antonio, TX 78202