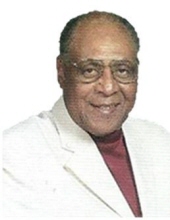 Obituary for James Clint Williams
James Clint Williams was born in Moody, Texas on May 18, 1935.

He was the youngest of two sons born to his parents Isaac James Williams and Cloma Prince. His sibling Clayton Williams lived only a short while after birth.

Clint and his Mother Cloma lived with his Father in Moody, Texas until the untimely death of this father Isaac due to illness. Clint and his mother then moved to San Antonio, Texas in 1941 where he began his education in the San Antonio Independent School District.

James Clint attended elementary school at Booker T. Washington. He then attended Middle School at Douglas Junior High. During his high school years he attended Phyllis Wheatley High School where he began to excel in academics and athletics. He participated in basketball, football and track. His 880-yard relay team won the State Championship in 1952. James Clint graduated from Phyllis Wheatley High School in San Antonio in 1953.

After graduating high school Clint attended Texas Southern University in Houston, TX on an Athletic Scholarship. During his time at Texas Southern he received many athletic honors. He served as Captain of the Track and Football teams. He led the Tigers in a 9-1 record and a Conference Championship. He also served as the captain of the football and track teams. Clint concluded his time at Texas Southern by graduating with a Bachelor of Arts Degree.

After graduating from Texas Southern University in 1957 he joined the Houston Independent School District and began his teaching and coaching career at Lincoln High School and Evan E. Worthing High School in Houston, TX. During his time at Worthing High School Clint became head coach in 1958 of the Track team and Assistant Football Coach. His track team won district championships in 1961 and 1962.

Clint was also recognized as Houston Area Coach of the Year in 1964. Coaching was not the only position that Clint held in the school district he also taught in the classroom teaching Science.

While living in Houston Clint became a member of Jones Memorial United Methodist Church where he became an active member of the Men's Choir.

After his time at Houston Independent School District James Clint left the coaching and teaching profession in 1968 and began a career in pharmaceutical industry with Sterling Pharmaceuticals/Winthrop Laboratories. For the next 28 years Clint led a successful career in the pharmaceutical industry by becoming one of the first African-Americans in his field and becoming a top salesman and receiving numerous honors for his outstanding sales history. Clint retired in 1997.

Clint is a lifetime member of the United Methodist Men and a faithful member of Alpha Phi Alpha Fraternity Delta Rho Lambda Chapter. Clint also was a member of Texas Southern Alumni San Antonio Chapter, Prairie View Interscholastic Coaches Association and Phyllis Wheatley Alumni Graduates and Friends.

James Clint Williams is survived by his son James Clayton Williams and daughter Karen Elaine Williams-Montgomery. Six grandchildren: Christopher, Kimberly, Bobby, and Angela Williams, and Danielle and Robert Montgomery and six great-grandchildren Shaunece, Brook, Quintin, Christopher, Kierra, and Micah.

James Clint Williams will be deeply missed and we thank God for the time that He has allowed us to know and love him.
Previous Events
Visitation
East St Paul United Methodist Church
211 Lockhart
San Antonio, TX 78202
Visitation: 5:00 P.M. until 7:00 P.M. Wake Service: 6:00 P.M. until 7:00 P.M. Visitation: 7:00 P.M. until 8:00 P.M.
Funeral Service
Aldersgate United Methodist Church
502 Kayton Avenue
San Antonio, Texas 78210
Cemetery Details
Location
Gates of Heaven Memorial Gardens
16551 Weichold Road
San Antonio, Texas 78244