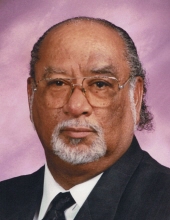 Obituary for Gilbert Brown, Sr.
Gilbert Brown, Sr., was born November 8, 1936 in St. Louis, Missouri. He was the son of Mr. Howard Brown, Sr., and Mrs. Mary Frances Brown.

Gilbert went home to be with the Lord on Thursday, August 17, 2017 with family by his side.

Gilbert was a veteran who served in the United States Air Force for 12 years. After his enlistment, Gilbert was a successful Business Owner in East St. Louis, Illinois, Memphis, Tennessee and San Antonio, Texas. Gilbert cherished his family and he was always delighted to have his entire family around. While in St. Louis, he was a member of St. John Missionary Baptist Church.

Gilbert united in Holy Matrimony with Sylvia Evelyn Graves and they were blessed with five children.

Gilbert joined The Brown's Family Reunion in Glory with his beloved parents, Howard Brown, Sr., and Mary Frances Brown; three siblings, Howard Brown, Jr., Bernard Brown and Wilma Brown.

He will be sadly missed by his children, Diana L. Brown Lambert, Gilbert Brown, Jr., Glenert Brown, Gary E. Brown, and De Havalan L. Brown-Watts, I. He also leaves a devoted son-in-law, Herbert Watts, Jr. Also, mourning his passing will be his two siblings, Richard Brown and Cleo Jethro; nine grandchildren, five great-grandchildren; a special niece, Cynthia Jethro; several other nieces, nephews, a host of other relatives and friends.
Previous Events
Memorial Service
A Life Celebration By Franklin
510 S. Main St.
Taylor, TX 76754
Interment
Jefferson Barracks National Cemetery
2900 Sheridan Road
St. Louis, Missouri 63125